Winter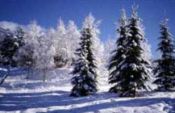 Winter in Italy is considerably milder and (fortunately?) not as long as in the nordic countries. Thousands of Scandinavians head on their skiing holidays to the Alps, half of which lay on the Italian territory. Nature has created ideal circumstances for high level alpine and cross-country skiing, either in the large and famous skiing centres or in the smaller villages. The slopes and runs are very well kept, the sun shines warmer and longer on the southern part of the Alps, and the local food is a story in itself.

Of course Italy has more to offer in the winter than just skiing slopes. Between November and December many towns and cities organize lively and idyllic Christmas markets, and the pre-Christmas atmosphere reaches itsí height at the midnight mass in the Vatican Church.



Of course in Italy you can also play golf all year round: the golf courses are in very good shape and not overcrowded.

Winter is a good period to visit the characteristic Trattorias and experience one of the best cuisines in the world. The ingredients for the seasonís specialities are fresh and skilled cooks have plenty of time to create unforgettable dishes. A glass of strong and excellent Barolo or Amarone wine also tastes much better at a cooler temperature than under the hot summer sun.